Gali Greenspan
Born Jerusalem 1979
Lives and works in Alfred NY

For CV+Details please contact gali.gx@gmail.com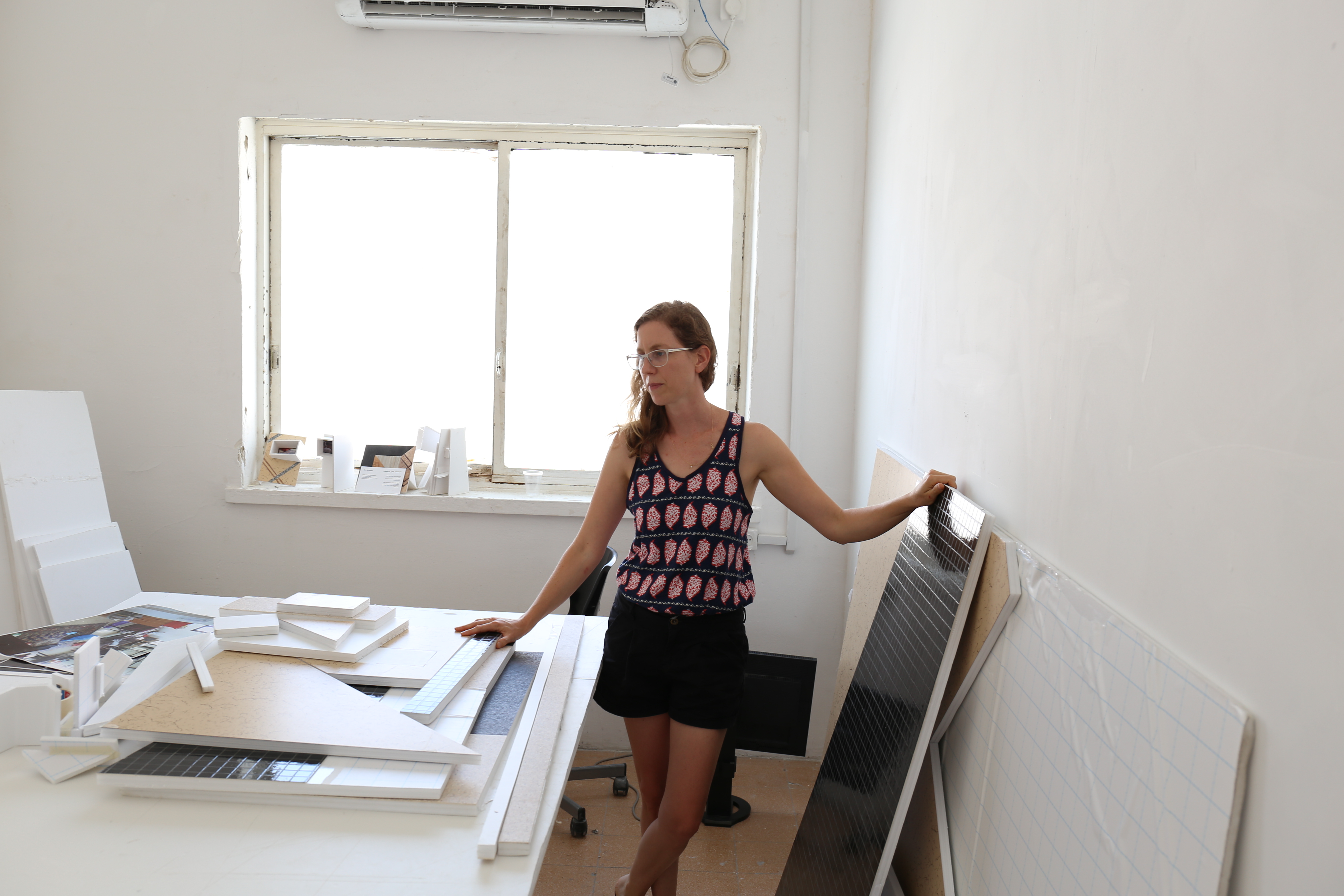 My work traverses a variety of mediums, including sculpture, installations, video footage, sound samples, analogue processed moving images, ceramics, and site- specific installations of prints on a variety of household materials. With emphasis on architectural forms, I often work with flooring materials as a ground, carpets as tangible objects that define the spatial features of "Home" as well as emotional temperament, and cultural defaults. By crossing over between image and space, I create territories where the real and the imagined coexist, investigate where Art meets Life, an artificial division that increasingly occupying me after having children. A time when I moved my studio to the middle of my living room and initiated sculptural events It led me to collapse the boundaries between the two, to assimilate Donald Winnicott's Transitional Space, and to playfully blur the line between the logic of the home, the exhibition space, and the virtual space. The transitional moments between each space liberate me to accept the limbo of each new medium I work with. Expansion of form of representation is for me a political act of resistance to ordered structures. I am comfortable at liminal situations between 2D sites, 3D spaces and 4D movements, I activate spaces as events momentarily, changing their perception and emphasizing rhythm, joy, temporality, and flow.

Being a parent, artist, earning a living and teaching, I create in an occupied space. By placing a grid and initiate movement I am trying to control and reverse myself. The 'Grid' is not unified, it is contradictory and grounds multiple viewpoints, crossing lines of binary divisions of logic systems of the virtual and the real existence.

In the past years since moving with my family from Tel Aviv to the US, to Western NY - a rural surrounding, I created series of images sublimated into raw surfaces I detect around me on which I document experimentation with real Time editing using Analog systems. Having the opportunity to work with heritage equipment, such as Sandin image processor, Jones colorizer, I embrace craft methodology and I tour after the unending variety of greys and the flashing pinks.
A dissonance between an image flooded with color, and the material's inherent glitches and noise replicates my own emotional detachment from my rural environment and its common interior features. When reproduced on different materials such as aluminum flashing and a mass-produced carpet the video images that were pulled out of sequences, become bound by time and space. This is a dialogue between the material's surface and the digital input: the fiber echoes the pixels, a change in orientation replicates shifts in repetitive frame patterns. The Beige of the mundane, gleams on the aluminum surface and saturates the stains on the rug. What I usually try to avoid – stains on the carpet – inverted into freedom and joy.

Pausing the recorded sequence, I return to Yi Fu Tuan's idea of simultaneous experience of space/place colliding the security and stability of a place with the openness and threat of a space. A space is that which allows movement, then place is pause.


Bio:

Gali Greenspan (b. 1979, Jerusalem) is a multidisciplinary artist based in Alfred, NY. Mom to three children, active in studio projects and exhibitions, writing and curating. With its emphasis on architectural forms, her studio work questions our expectation for coherent order, narrative and borders. Greenspan earned both her BFA (2005) and MFA (2016) with honors from Bezalel Academy of Art and Design Jerusalem. Graduate from Alma College for Hebrew Culture, Tel-Aviv (2009). Recent collaborated with Maureen Weiss on Dance Costume design and published interviews with artists Kahlil Robert Irving and Einat Arif Galanty for 1280° Magazine, Tel Aviv. Solo shows in the US at U of R Frontispace Gallery Rochester, HiLo Gallery, Catskill NY and Cohen Gallery, Alfred NY and Participated in many group shows in Israel and the world. Awarded grants from Institute for Electronics Arts Alfred NY, Signal Culture, NY, NFCT (New Foundation for Cinema and Television, Israel), The America Israel foundation, Association of Israel Decorative Arts and the Tel Aviv Museum of art and Bezalel Academy excellency awards. Her works are in the Israeli Parliament collection. Greenspan writes for 1280°c Magazine for Material Culture and a former member of Hanina Contemporary Art Gallery - collectively owned non-profit gallery in Tel-Aviv. Curatorial projects includes 'Speech Act' at the Fosdick-Nelson Gallery, Alfred University, NY and 'Karev Yom' at Ha'Kubia' Gallery, Jerusalem. Adjunct Faculty at NYSCC devisions of Sculpture and Dimensional Studies and Foundations. Among her previous teaching - the Bezalel Academy of Art and Design, Orthodox branch, Jerusalem, Thelma Yellin High School for the Arts Israel and Ha'Kubia, Jerusalem. Member of Art Mamas Alliance, supportive community for parents in the arts.