2021

Vectors and Waves in Owego
Exhibition at HiLo Gallery, Catskill, NY, April 1st 2021-May 31st



On view: a body of work produced since relocating to Alfred, NY two years ago. Created during her residency in IEA, Alfred and Signal Culture Studio Residency for Analogue Video, Owego, NY, these works are the reflection of a passionate dive into the process of exploring the analog viedo's unique rhythm and colors. The hands-on process with heritage equipment, such as Sandin image processor, Jones analog coloriser, MVIP, and Wobbulator, later evolved into work with moving images, printed frames sequences, and plotter drawings.





Link to Excerpt:

https://vimeo.com/542703353
Gali Greenspan's work traverses a variety of mediums, including video footage, sound samples, analogue processed footage, ceramics,and site- specific installations of prints on a variety of household materials. With its emphasis on architectural forms, her work questions our expectation for coherent order, narrative and borders. By crossing over between image and space, Greenspan creates transitional territories where the real and the imagined coexist. In her most current work she investigates where "Art" meets "Life," an artificial division that increasingly occupied her after having children. It led her to to collapse the boundaries between the two, to assimilate Winnicott's Transitional (Third) Space, and to playfully blur the line between the logic of the home, the exhibition space, and the virtual space. The transitional moments between each space liberated Greenspan to accept the limbo of each new medium she works with, to linger just a bit longer before taking a foothold.

From exhibition statement: The front space at HiLo showcases large prints and a video installation that documents Greenspan's experimentation with the materiality of analog systems. A disonounce between an image of a pristine office space she captured on video, and the material's inherent glitches and noise replicates Greenspan's own emotional detachment from her new home rural environment. The materials she worked with led Greenspan to study the demarcation between the self and a new, foreign surrounding. When reproduced on different materials such as aluminum flashing and a mass-produced carpet the video images that were pulled out of sequences, become bound by time and space. A new dialogue is formed between the material's surface and the digital input: the fiber echoes the pixels, a change in orientation replicates shifts in repetitive frame patterns. The grayness of the office space transformed into color through the digital translation, gleams on the aluminum surface and saturates the stains on the rug.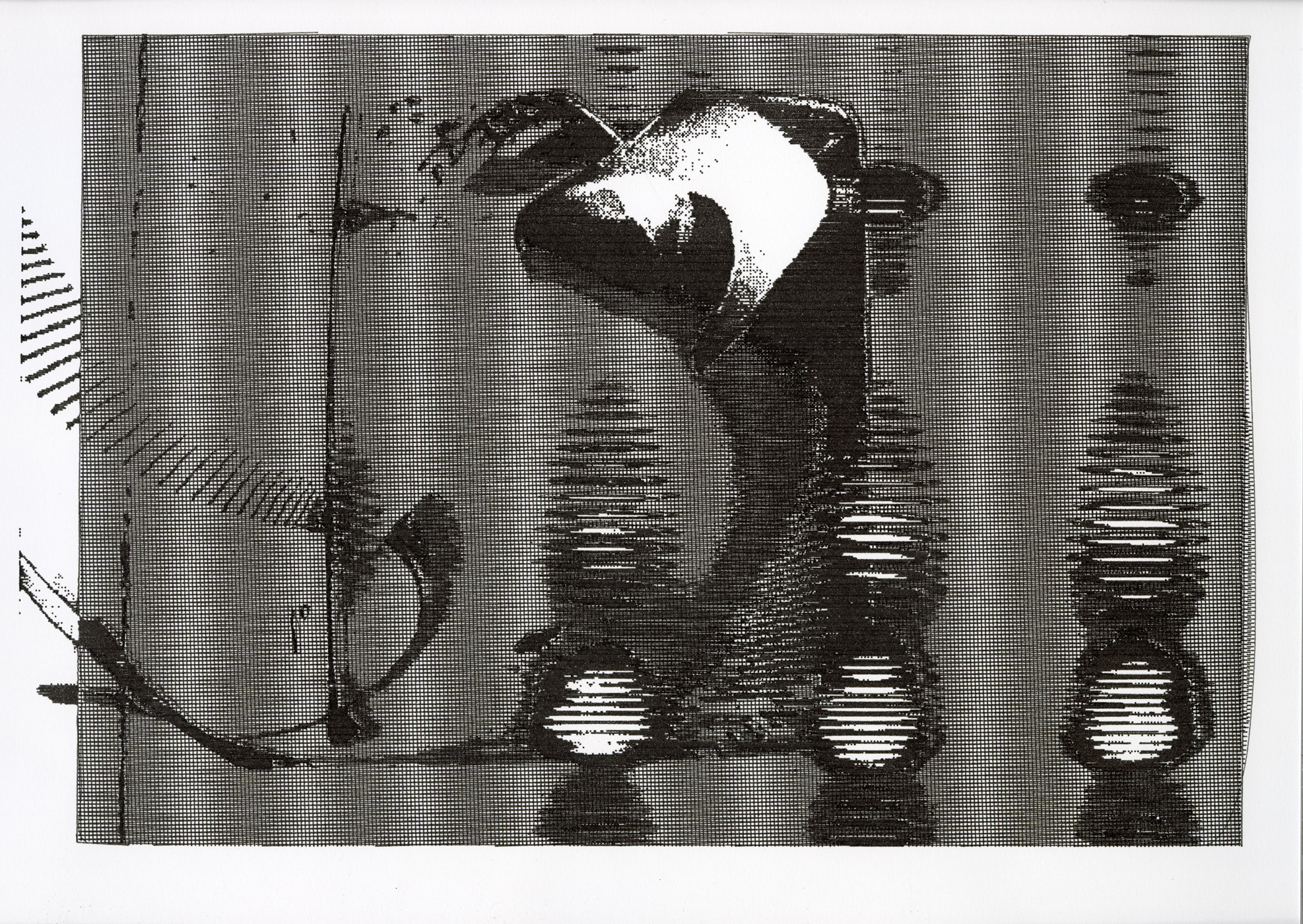 The exhibition includes a series of archival ink drawings created with an XY plotter. The work employs images recorded with analogue video synthesiser and converted to layered vector lines to capture the rhythm of a moving image.
Greenspan continues her exploration of the different flow each material offers by placing different qualities of glaze in proximity. The grid-like texture on each of the slab objects allows the tangible and unpredictable behavior of the glaze to shape her work.



XY plotter drawings started from an analog video synthesizer image. the original recordings were made using Hearn VideoLab system and Wobullator, and processes in digital softwares to convert the raster image into vectors. This fascinating process is in the core of this series.