2023

PROHIBITED PROXIMITY - COSTUME DESIGN

Collaboration with Maureen Weiss





Choreography by Brenna Turner
Performed by Kaylee Gernant, Erica Welch
Music by CloZee
Costume Design by Gali Greenspan and Maureen Weiss




Photograph: Joice Miyake Faraji

Dye-Sublimation print on Textile, Digital Compositions of Analog Moving Image Sequances and Wobbulator recordings
2022

SYNTHETICS
Exhibition at Frontispace Gallery, Sage Center for the Arts at University of Rochester, NY, October 14th -November 18th 2022


"Being a parent, artist, earning a living and teaching, I create in an occupied space. By placing a grid and initiate movement I am trying to control and reverse myself. The 'Grid' is not unified, it is contradictory And grounds multiple viewpoints, crossing lines of binary divisions of logic systems of the virtual and the real existence."


Frontispace is pleased to announce Synthetics, an exhibition of work by Gali Greenspan. Greenspan's solo show at Frontispace showcases a new body of work that resulted from a set of synthesized images and analog video footage dveloped into moving images sequances, printed frames re-orgenized in dimensional spaces, and digital XY-plotter drawings. These large prints on mass-produced carpets made specifically for this space, documents the materiality of analog systems; the inherent glitches and noise replicates Greenspan's own emotional duality of upheaval and joy.

2021

SPEECH ACT
Words, sounds and transmissions by citizens of the Polis
Curated Exhibition at Fosdick-Nelson Gallery, Alfred University School of Art and Design, NY, Feb 19 2021-Mar 21 2021



Participating Artists: Tamar Zohara Ettun, Assaf Evron, Michal Helfman, Talia Keinan, Karam Natour, Roee Rosen, Chaya Ruckin Berkman, Ruti Sela, Talia Tokatly
Curated by: Gali Greenspan

The show includes works in varied media - video, sound, digital print, paper collage and drawings.
Through a personal prism of the one who stands behind an action, working with and within language, we are exposed to a critical stand. Social structures manifest in the linguistic eco.
Languages and locations featured: Arabic, English, Hebrew, Spanish, Sound, Germany, Marseille, USA, Tel-Aviv, Nazareth, Syria, Brooklyn, Egypt, Jaffa, Jerusalem, Buenos Aires.
This show presents aspects of participation in the political sphere, in the context of history or present, in the possibilities of speaking and healing. being an observer while at the same time being an actor. Inspired by Arendt thought, in the political sphere action and speech are coequal and to speak is to be political. "Speechless action would no longer be action because there would no longer be an actor" (Hanna Arendt, The Human Condition, University of Chicago Press, 1958, pg.179).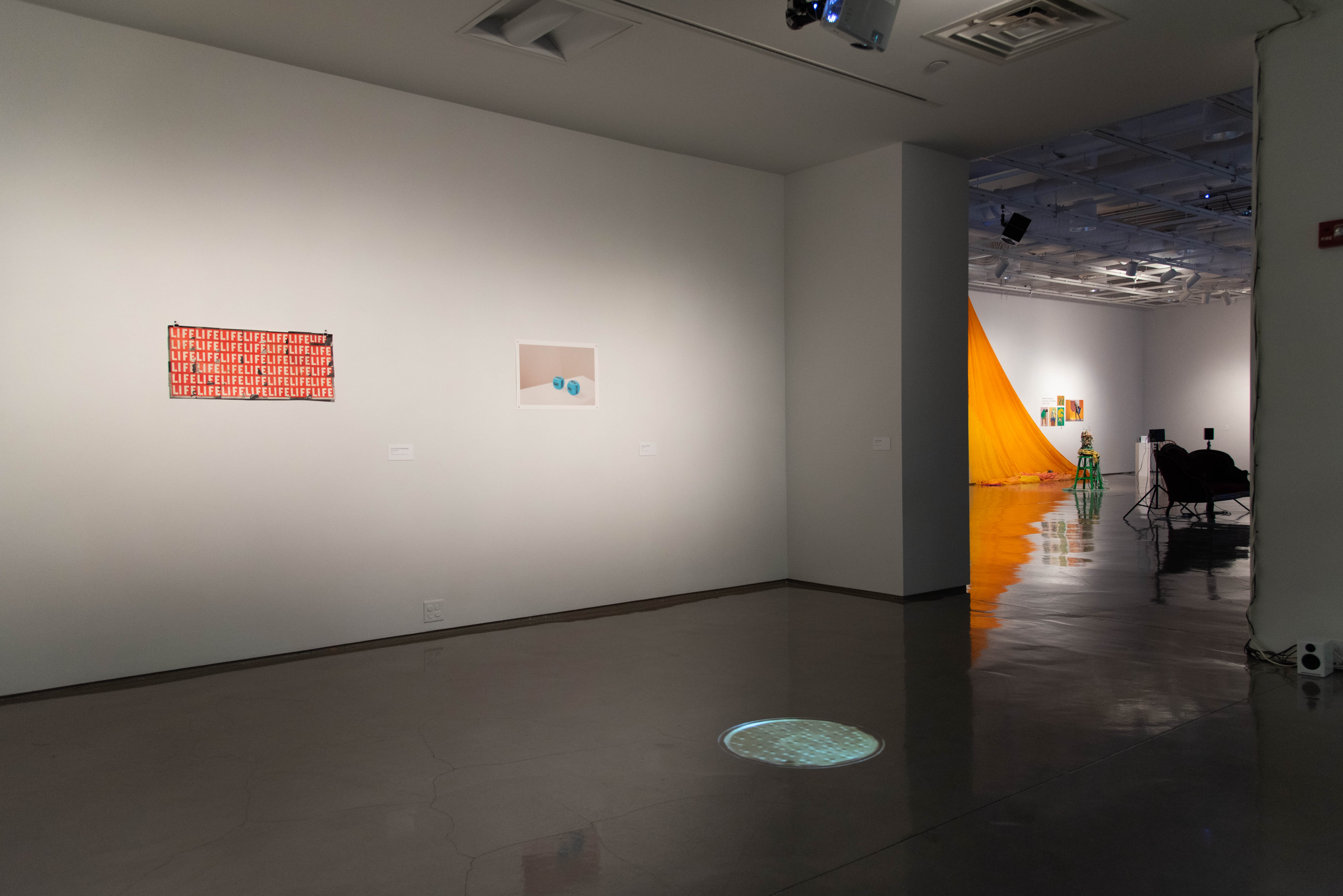 Selected Writing
1280° Magazine for Material Culture, Tel -Aviv, Editor: Talia Tokatly
2021

Vectors and Waves in Owego
Exhibition at HiLo Gallery, Catskill, NY, April 1st 2021-May 31st



On view: a body of work produced since relocating to Alfred, NY two years ago. Created during her residency in IEA, Alfred and Signal Culture Studio Residency for Analogue Video, Owego, NY, these works are the reflection of a passionate dive into the process of exploring the analog viedo's unique rhythm and colors. The hands-on process with heritage equipment, such as Sandin image processor, Jones analog coloriser, MVIP, and Wobbulator, later evolved into work with moving images, printed frames sequences, and plotter drawings.





Link to Excerpt:

https://vimeo.com/542703353
Gali Greenspan's work traverses a variety of mediums, including video footage, sound samples, analogue processed footage, ceramics,and site- specific installations of prints on a variety of household materials. With its emphasis on architectural forms, her work questions our expectation for coherent order, narrative and borders. By crossing over between image and space, Greenspan creates transitional territories where the real and the imagined coexist. In her most current work she investigates where "Art" meets "Life," an artificial division that increasingly occupied her after having children. It led her to to collapse the boundaries between the two, to assimilate Winnicott's Transitional (Third) Space, and to playfully blur the line between the logic of the home, the exhibition space, and the virtual space. The transitional moments between each space liberated Greenspan to accept the limbo of each new medium she works with, to linger just a bit longer before taking a foothold.

From exhibition statement: The front space at HiLo showcases large prints and a video installation that documents Greenspan's experimentation with the materiality of analog systems. A disonounce between an image of a pristine office space she captured on video, and the material's inherent glitches and noise replicates Greenspan's own emotional detachment from her new home rural environment. The materials she worked with led Greenspan to study the demarcation between the self and a new, foreign surrounding. When reproduced on different materials such as aluminum flashing and a mass-produced carpet the video images that were pulled out of sequences, become bound by time and space. A new dialogue is formed between the material's surface and the digital input: the fiber echoes the pixels, a change in orientation replicates shifts in repetitive frame patterns. The grayness of the office space transformed into color through the digital translation, gleams on the aluminum surface and saturates the stains on the rug.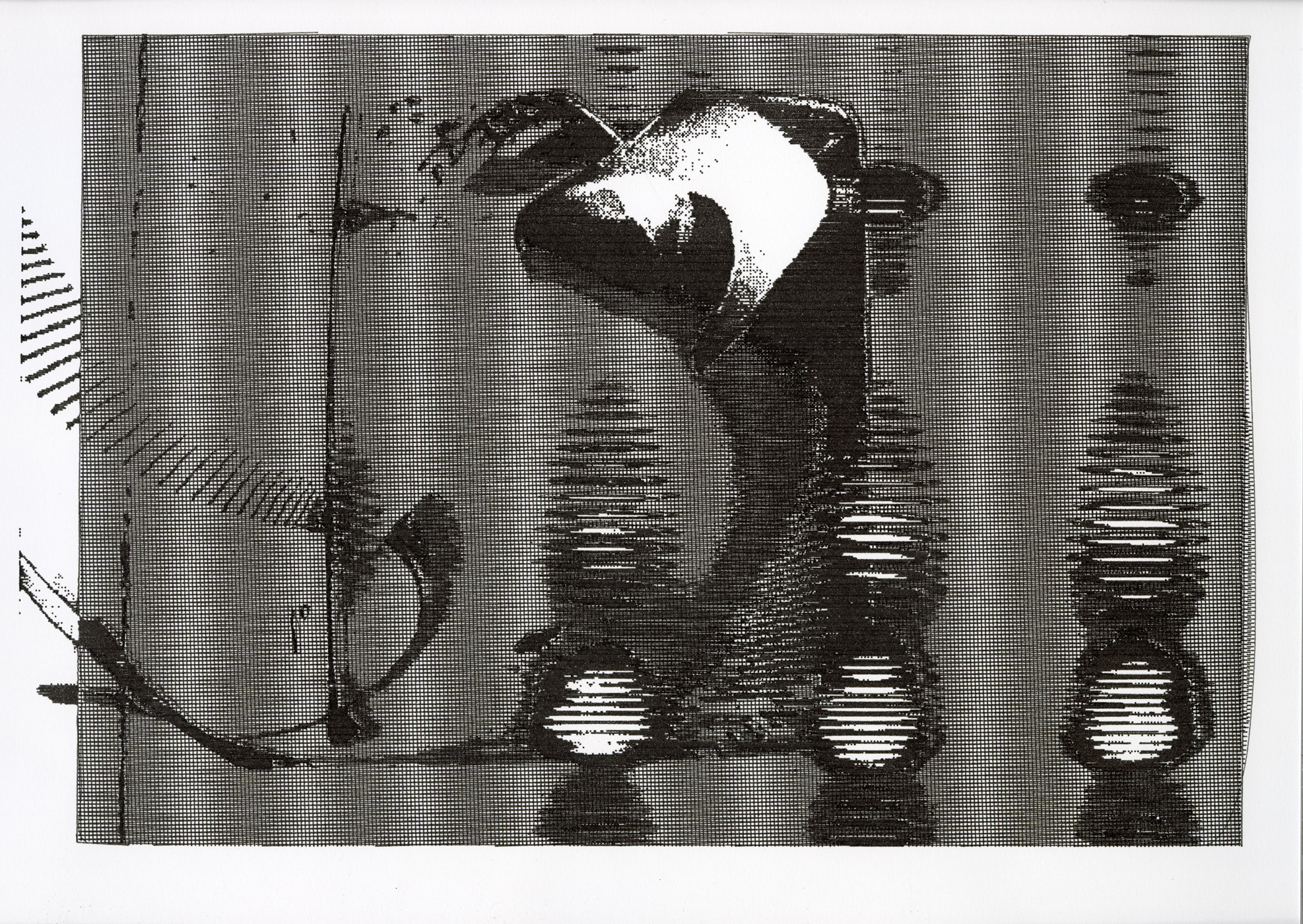 The exhibition includes a series of archival ink drawings created with an XY plotter. The work employs images recorded with analogue video synthesiser and converted to layered vector lines to capture the rhythm of a moving image.
Greenspan continues her exploration of the different flow each material offers by placing different qualities of glaze in proximity. The grid-like texture on each of the slab objects allows the tangible and unpredictable behavior of the glaze to shape her work.



XY plotter drawings started from an analog video synthesizer image. the original recordings were made using Hearn VideoLab system and Wobullator, and processes in digital softwares to convert the raster image into vectors. This fascinating process is in the core of this series.